Sandii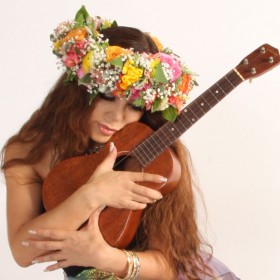 In 1976, Sandii started her career as a singer when she won the prestigious prize for the best vocalist at The World Song Festival. Following
the 1980 release of an album, produced by Hosono Haruomi, in the U.K. and Japan, "Sandii & the Sunsetz" was formed and made a venture across
Europe and Australia. Meanwhile, she adorned the covers of many majour music magazines in the U.K. such as Sounds, Melody Maker and NME and
got a high reputation. In Australia, a single "Sticky Music" dominated No.1 hit in various charts. She became an internationally renowned Japanese
artist, making memorable appearances worldwide. Many of her fans of that time support her activities to this day. The name of the band, Sandii & the Sunsetz, is legendarily listed in Wikipedia.
In 1990, Sandii was back in solo with the album "Mercy", produced by a Singaporean producer Dick Lee. Including some good-old Japanese
kayokyoku songs of the prewar era as well as the taste of Hawaiian, Asian and Brazilian music, Sandii made up her own style of creating music. She blazed a trail of World Music boom, which would sweep all over Japan.
Sandii, who has the background in Hawaii, has been releasing Hawaiian music albums in series since 1996. Along with musical activities, she
developed her original philosophy "The Aloha Therapy" into practice and established a hula studio, in which she teaches more than 1,000 students currently. In 2005, after years of study and hard training, she was given a title of "Uniki Kumu Hula" from her mentors. She has been acknowledged as a successor of the Hawaiian hula culture, the highest title as a legitimate
hula master.
In 2009, Sandii produced a super-review and performed herself as a principal with her 150 dancers. At the Bunkamura Orchard Hall, she was
showered with glowing accolades.
In the recent activities, the unit called "SandiiBunbun" has been formed
with BUN from KOH-TAO. The band's latest album "Hirara" was released featuring the tribal unit "Earth Conscious". The world famous Celine Dion has selected and covered Sandii's original song "Watashi" in her latest DVD,
"Celine Dion Through the Eyes of the World".
Being as a singer, Sandii produces herself original albums on a constant basis. As the unique artist, her evolution never stops.